Early Intervention Program
Check out this video from Southern NJ Early Intervention Collaborative that highlights Telehealth for EI Services.
Keep an eye out for our very own Transdisciplinary Coordinator, Theresa Perazzelli.
Earlier is Better!
The years from birth to three are the most important in a child's development. Positive early learning experiences are essential for later success in school and the community. St. John of God Community Services is part of the New Jersey Early Intervention System. Our targeted evaluation team provides assessments and evaluations for children in Gloucester County. We provide a wide range of comprehensive services, including Developmental Intervention, Physical Therapy, Occupational Therapy, and Speech Therapy to children in the early intervention system in Gloucester and Cumberland County.
You Matter Most!
Parents and other caregivers have the most influence on a child's learning and development. Our practitioners work with families to set up fun, engaging and interactive activities. By exploring their environment through movement and play, children develop problem solving, motor, social emotional and communication skills. Sessions take place in the home or other community locations depending on the family needs and priorities.
Let's Get Started!
If you feel that your infant or toddler is experiencing developmental delay, call the New Jersey Early Intervention toll free number 1-888-653-4463. An evaluation will be scheduled at public expense.
If your child is found eligible for services, the early intervention team determines what services are needed based on your concerns and priorities. Some families may have to assume part or all of the cost of early intervention services. A service coordinator will help determine the family cost share based on family income and size.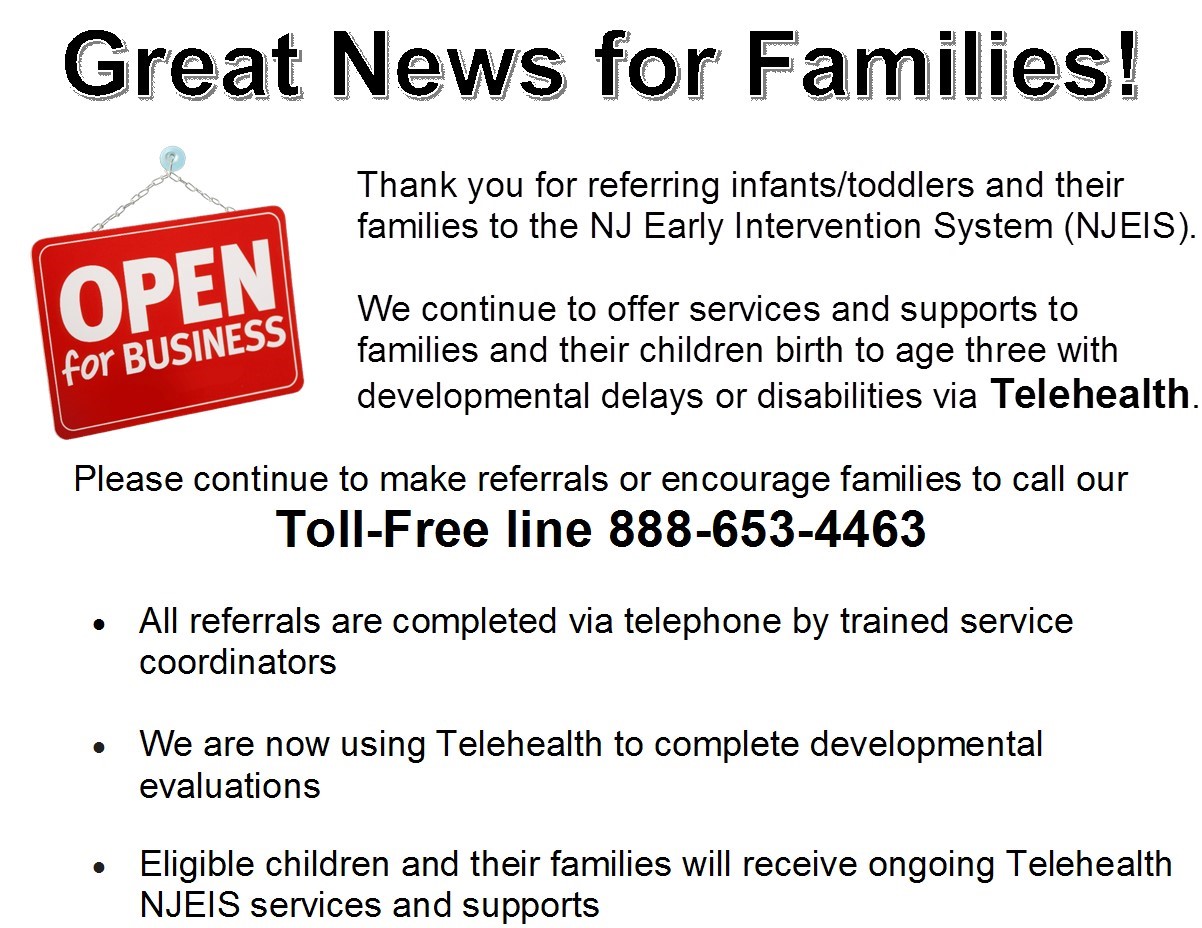 For more information on Early Intervention at St. John of God Community Services, including evaluations and direct services, please contact the following:

Cathleen Scanlon, MSS, CPRP
Program Administrator
856-848-4700, ext. 1112
Susan Ross
Program Supervisor
856-848-4700, Ext. 2102
HOSPITALITY - RESPECT - QUALITY - RESPONSIBILITY - SPIRITUALITY