Building a Greenhouse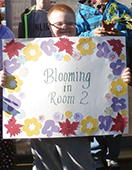 ---
From conception to construction, the Archbishop Damiano School (ADS) greenhouse took only two years to become a reality, thanks largely in part to the support and generosity of staff, students and families.

"Naturally, after having so much success with the garden, the next step was to have a greenhouse," says Linda McHugh, curriculum supervisor and ADS 4-H Club advisor.
Two years ago, the idea was conceived to add a greenhouse to the school's already exemplary horticulture program. Consisting of a butterfly garden and approximately 50 plots, the ADS Not-So-Secret-Garden serves as a learning tool for students, stressing the importance of Farm-to-Table practices. With each plot assigned to a classroom, all vegetables and crops harvested from the plots benefit each classroom, whether in the form of cooking demonstrations or fresh salads in the lunch room. At the end of the season, some of the crops are even donated to the local food pantries, so that nothing goes to waste.

Fundraising for the greenhouse started small, at first. While the garden was funded almost solely through grants, no grants were available for the construction of a greenhouse. Starting the fundraising process, the 4-H club began hosting plant sales, poinsettia drives, and terrarium sales.

Yet, after time went by and word of the greenhouse project spread, Linda was approached by a number of donors.
They had heard of the project and wanted to make a contribution in memory of a student or loved one. Donors included Sally and Walt Edwards, grandparents of students Andrew Babco and Makayla Lundberg, who both passed away while attending Archbishop Damiano School. Others donated in the memory of Henrietta "Hank" Wozunk, a long-time volunteer at St. John of God Community Services, as well as Paul Charette, Pauline Meduri, Chelsea Wood and Adele DeColi.

"This greenhouse is really a tribute to all the students, volunteers, staff and families of ADS," Linda says.
In addition to the support from individuals, the Gloucester County Certified Gardeners assisted in both the fundraising and construction of the greenhouse. Their efforts included assisting with plant sales, donating the first plants to the greenhouse and serving as logistical consultants in its construction.

On October 8, 2015, the greenhouse was officially dedicated and opened to the students of ADS. Since the greenhouse's opening, the students have excelled at growing everything from herbs and varieties of lettuce for National Nutrition Month, to fig trees. Looking forward, Linda envisions expanding the class' newly created aquaponics system to the greenhouse, as well as creating heirloom gardens. Thanks to the assistance of community partners and caring individuals, the possibilities for the Archbishop Damiano School's horticulture program are endless.