The Froio Family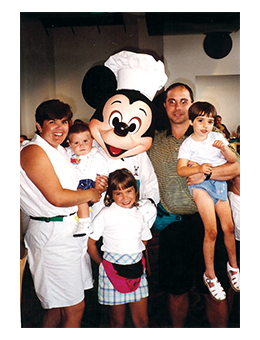 ---
The mission of St. John of God Community Services is not only to assist people who have disabilities to develop their skills to their fullest potential, but to do so with care and compassion. When Paula and Gregg Froio were looking for a school for their daughter, Melissa, they saw the staff at Archbishop Damiano School translate that mission into actions.

"We don't know anything about this disease, but we'll work together to figure it out." Nearly 17 years since Greg Zink, assistant vice principal, said those words, they still have an impact on the Froios. Immediately put at ease, they knew St. John of God Community Services was the caring, nurturing environment they wanted for Melissa. When she started attending the school, her family noticed a drastic change in her. Gregg Froio noted that "Melissa enjoyed the school, the routine and normalcy that allowed her to be like the other children."

Melissa Froio was a beautiful little girl who at age four was diagnosed with Neuronal Ceroid Lipofuscinoses (NCL) more commonly known as "Batten Disease." It is an inherited, degenerative, neurological disease that takes away a child's fine motor skills including the ability to see, eat, walk and talk. Her parents wanted to ensure that her life would be fulfilling regardless of the effects of the disease and they are truly grateful for the support and care Melissa received as a student at Archbishop Damiano School.

As Melissa's symptoms progressed, the teachers and therapists that worked with her found ways to make her comfortable and included in the activities of the classroom like using a kidney chair so she was able to be out of her wheelchair. Her parents had peace of mind that she was in caring, able hands.
In addition to the classroom teachings and social interaction, Melissa was able to attend CCD and take part in the sacraments.


This was truly special for the family," said Paula. The Faith Formation Program at St. John of God Community Services gives children and adults with developmental disabilities an opportunity to participate in weekend programs for religious instruction to enrich their spiritual lives. The program also includes an annual Christmas Pageant and Masses held on campus to celebrate Christmas and Easter.

In 2000, Gregg and Paula created the Melissa Froio Foundation which raises funds to support Batten Disease research and St. John of God Community Services. They choose to support the organization to show their appreciation of not only the care that Melissa received during her time at Archbishop Damiano School, but for the care that each child receives. During the last 14 years, the Foundation has donated more than $75,000 to St. John of God Community Services.
"Melissa was one of the lucky few who had a school like Archbishop Damiano School. Throughout the country, most children are in the public school system which does not have the same level of support," said Gregg.